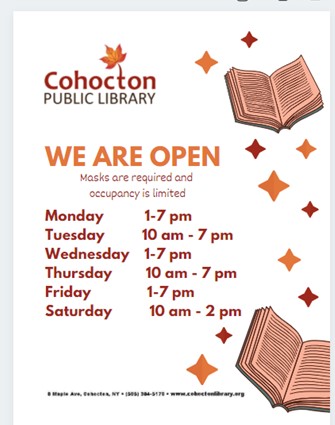 We are still requiring masks at this time, thank you for your cooperation.


Thursdays at 10:30am
Call to Sign up! We are in person at the Town Gazebo based on attendance and weather. Please call ahead 585 384 5170

WorkShop Wednesday:
6/16 Fathers Day Build- Sign up to make a tool box or book ends with a father figure!
Call to sign up for these all ages programs. (585)384 5170

In person at the Library, Call to register 585 384 5170



Book Club
Wednesday, June 30th  12:00pm Lions Club Pavilion                                                                                                                               
Come join us for a friendly discussion of this month's selection "Vinyard of the Painted Moon," by Susan Mallory. Copies are available at the Library.  Masks and distance will be required.
Cohocton Public Library (8 Maple Ave, Cohocton) (585)384-5170

Live Fishing Demonstration
Saturday June 26th, Facebook Live
We are celebrating New York's Free Fishing Day with a fishing demonstrations by our own Kurtis Schauer. Check out a pole and fish for free today!
https://www.facebook.com/CohoctonPublicLibrary

https://www.dec.ny.gov/outdoor/27123.html#:~:text=In%20addition%20to%20the%20Free,designated%20as%20Free%20Fishing%20Days.